Day Eighteen: It's a Big Baby
Posted by Nicolas (permalink)
This message is a bit late because I'm currently finishing building the automatic installer, to know how much this baby will weight. I can already say that it's a bit bigger than we initially thought because fully compiled maps are a bit heavier than I thought. The uncompressed game files are 1.5 GB in size. I'm actually compressing it inside the installer to see how much weight we could gain...
... and the result is really far heavier than we initially thought. Two months ago, the game weighted 750 MB, one month ago it was 850 MB, and it's now 1 GB compressed. I can't believe it's so heavy for this amount of content, it's heavier than Portal itself. Levels take 750 MB alone (fortunately, it's an heavily compressible format, 50% or more). Anyway, I think I'll have to have a little discussion with all of our mirrors' owners, because I announced between 750 and 850 MB a few weeks ago. I really hope it will still be OK for the majority of them.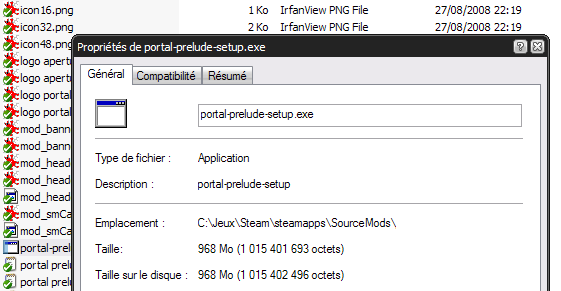 We also took your ideas in consideration, and I think we're going to use gameupdates.org to host a BitTorrent mirror for the game. It will allow people to download it faster during the first days. Of course, we'll also try to have as much regular mirrors as possible. I think we can at least count on the big ones like Planet Half-Life, ModDB, Vossey, GameArena, Internode, Total Gaming Network, etc.
Anyway, to summarize what's left to do:
Compile a final version of the game
Do the last tests and checks
Clean the mod folder
Build everything and finish details
Build an automatic installer
Upload it somewhere safe
Send it to a few people, magazines and websites
Make it available one day before the release to every mirror owner via a server to server transfert
Put a BitTorrent mirror online
Release everything
Take vacations (hurry up!)
Let's get back to work (again)!